Unlock your creativity
Join us for our new workshop series and unlock your creative side!
Many of us have faced personal life challenges recently, especially in light of the past year's lockdown restrictions. This new community project uses music, creative writing, film and photography to empower those identifying as female who have been struggling, by helping to build their creative skills as well as increasing self-confidence and self-expression. Inspired by Sir Walter Scott's novel The Bride of Lammermoor, the workshops explore issues such as loneliness, isolation and lack of empowerment, as well as the impact, for good and bad, that landscape and environment can have on our mental health and well-being.
If you're interested in learning more about any of the art forms involved – even if you haven't tried them before – and are keen to meet others who share similar interests, experiences and concerns in a supportive and friendly environment, please come and join us!
Sweet Sounds in Wild Places workshops are open to anyone aged 18 and over and identifying as female. We welcome all women, trans women, and non-binary people who see themselves as partially or sometimes identifying as female. Places are limited and will be allocated on a first come, first served basis.
The sessions will take place on Mondays at Heart of Hawick (2-4pm) and Focus Community Centre, Galashiels (6-8pm).  Workshops start Monday 27 September 2021 and run weekly until Monday 15 November. The final part of the project takes place at Abbotsford, The Home of Sir Walter Scott Museum and Visitors' Centre, Melrose, on Saturday 4 and Sunday 5 December. The art work created during the workshops will be displayed at a public exhibition at Abbotsford House in 2022.

For more info and to sign up, please contact Art Services on 01750 726 400 or email artservice@liveborders1.org.uk by Friday 17 September
Supported by The Cruden Foundation and Scottish Opera's Education Angels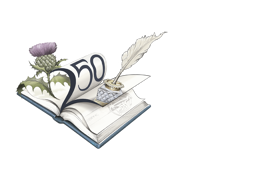 Video: Lucia di Lammermoor returns to Scotland