We caught up with Beth Hicks, former Scottish Opera Emerging Artist Costume Trainee and now Costume Supervisor for our upcoming staging of Humperdinck's Hansel and Gretel. She was part of the team that created the costume for the over-the-top, Christmas-crazed Witch, and she talks about the challenges of making this distinctive dress.
How did you come up with the concept for the costume?
Daisy, the Staging Director asked for a Christmas tree dress, shining with lights and plastic decorations. It had to be dramatic, sparkly, and excessive to contrast with the relaxed, earthy styling of Hansel and Gretel's family. A member of the costume team had some years before worked on a production with Christmas tree dresses formed using a crinoline structure, so we decided that this idea might be a good starting point.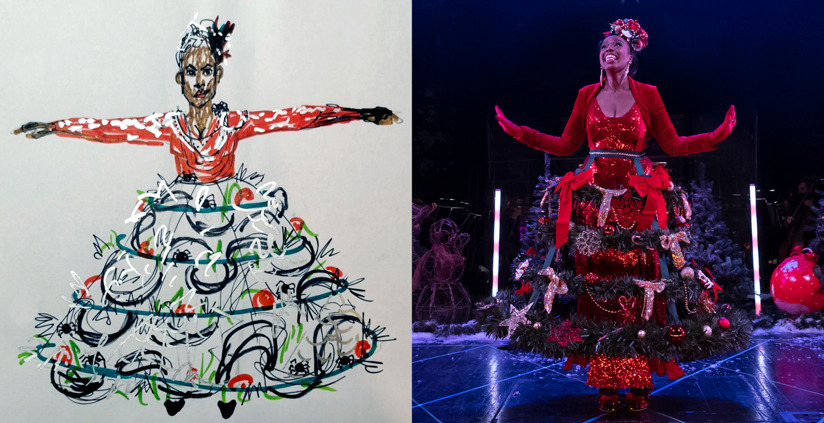 What was your inspiration?
When discussing the look of the opera, Daisy talked about the production conveying messages about waste, commercialisation and single use plastics. The Witch – with her glittering costume and trolley of trinkets – represents a glamorous kind of lifestyle that Hansel and Gretel have been unable to have because of their parents' circumstances. 

What were the challenges in making it?
Making any crinoline has its difficulties as it must be correctly balanced with the performer's body to create the desired shape. They also need to be relatively lightweight so that they remain secure at the waist and do not slip down when worn. This was tricky with the Witch's crinoline as it was naturally very heavy as result of all the decorations, which were a crucial element of the design concept. When we got to the stage rehearsals we realised that shoulder straps would be necessary to keep the skirt in place.

The main challenge we faced when making the costume though, was ensuring that singer Nadine Benjamin could move safely, and that her energetic performance was not hindered by the large structure. Constructing the Witch costume was a tremendous group effort in a very small time frame, and I would like to recognise my colleagues in Costume and Wigs for their amazing insight and hard work on the project.
Hansel and Gretel premieres online on Wednesday 10 February at 6pm. You can find out more about the production in our free digital programme, available here.