Select Date & Time
Accessibility Key
Audio Described

Dementia Friendly

Relaxed

Surtitles

Touch Tour
Verdi
Falstaff
A new co-production with Santa Fe Opera
Scottish Opera production studios, Glasgow: 3, 7, 10, 13, 15 & 17 July, 7pm 
Edinburgh International Festival: 8, 10, 12, 14 Aug, 7.15pm

Scottish Opera returns to live music this summer with a boisterous new outdoor production from world-renowned director, Sir David McVicar.

Sir John Falstaff – reprobate, chancer, relic of a bygone age – is finally about to get his comeuppance. Never short of a ploy to earn some ill-gotten cash, he sets his sights on two married women, plotting to trick them out of both their virtue and their husband's fortunes. But the women are sharper than they look and soon turn the tables on the old drunkard to teach him a lesson he won't forget…

Adapted from Shakespeare's The Merry Wives of Windsor, Verdi's swansong is a fast-paced, life-affirming comedy – a riotous romp that bubbles with irrepressible wit. McVicar takes inspiration from the Jacobean theatre, with exquisite 17th century costumes and striking set, all hand-crafted in Scottish Opera's own workshops. His new production gets to the bones of Falstaff, balancing the laugh-out loud moments with a poignant tale of a childlike man who has outlived his own time – full of experience and regret but ultimately a glorious celebration of life itself.

Following a five-star run of La bohème in our Edington Street carpark in Glasgow last year, Falstaff  Glasgow dates are being staged at the same location, with later dates at Edinburgh's Festival Theatre as part of Edinburgh International Festival.
Scottish Opera Music Director Stuart Stratford conducts The Orchestra of Scottish Opera and a chorus of singers, actors and children. They join the exceptional cast – a roll-call of current talent including Roland Wood (La bohème 2020) as Falstaff; Elizabeth Llewellyn (La bohème 2020), Louise Winter (In the Locked Room 2012) and Sioned Gwen Davies (The Diary of One Who Disappeared 2020) as the Merry Wives; and Jamie MacDougall (Ariadne auf Naxos 2018) as Bardolf.

Falstaff is being produced in line with Scottish Government guidelines and performances are subject to social distancing measures and guidelines at the time.
Running time includes 20 min interval
Sung in English

Sponsored by Dunard Fund
Supported by Falstaff Appeal donors, the Alexander Gibson Circle, Garfield Weston Foundation (Weston Culture Fund) and Scottish Opera Endowment Trust
Cast & Creatives
Sir John Falstaff
Roland Wood

Fenton
Elgan Llŷr Thomas

Ford/ Mr Brook
Phillip Rhodes

Dr Caius
Aled Hall

Bardolph
Jamie MacDougall

Pistol
Alastair Miles

Alice Ford
Elizabeth Llewellyn

Nannetta
Gemma Summerfield

Meg Page
Sioned Gwen Davies

Mistress Quickly
Louise Winter

Robin
Fergus Wood

Actors
Lauren Ellis–Steele, Jamie Francis, Caleb Hughes, Josh Kiernan, Allan Othieno and Sally Swanson

Conductor
Stuart Stratford & Derek Clark (15 Jul)

Director and Designer
Sir David McVicar

Lighting Designer
Lizzie Powell

Choreographer
Andrew George

Assistant Set Designer
Hannah Postlethwaite

Associate Costume Designer
Lorna Price

Translation
Amanda Holden

Videos
Falstaff 2021 | Behind the scenes
Let the cast and team behind out five-star Falstaff lead you through the challenges and delights of this epic production, first staged in the converted carpark (!) at Scottish Opera's Edington Street Production Studios as part of Summer Festival of live performance, Live at No. 40.
On stage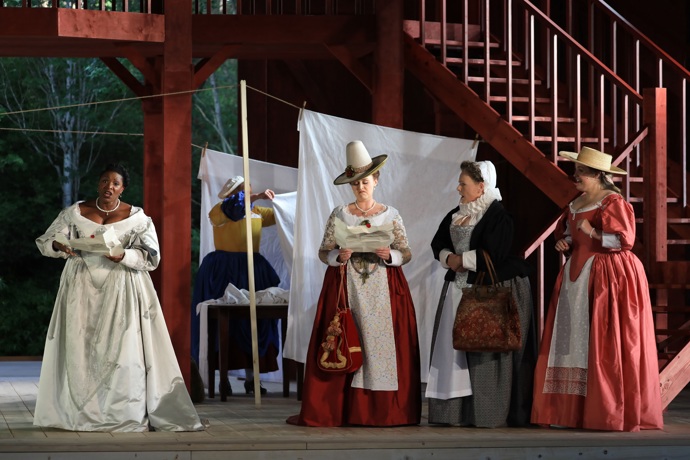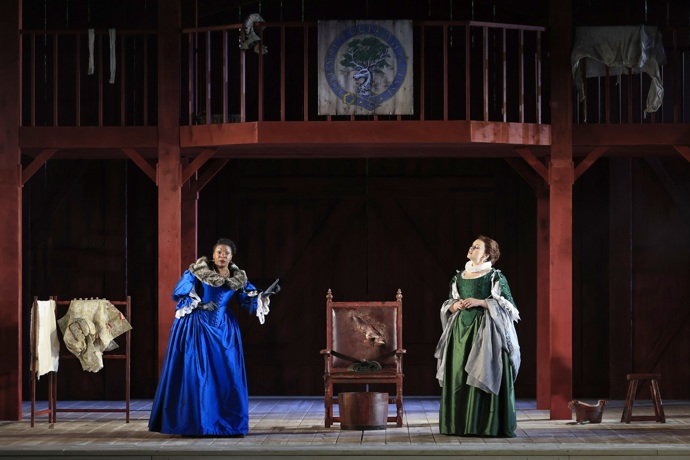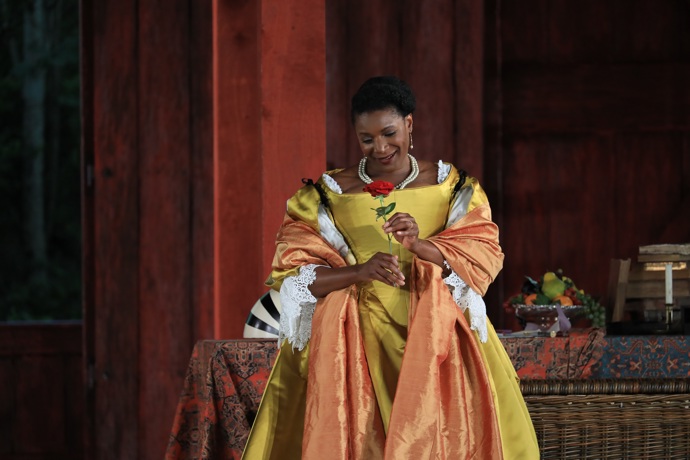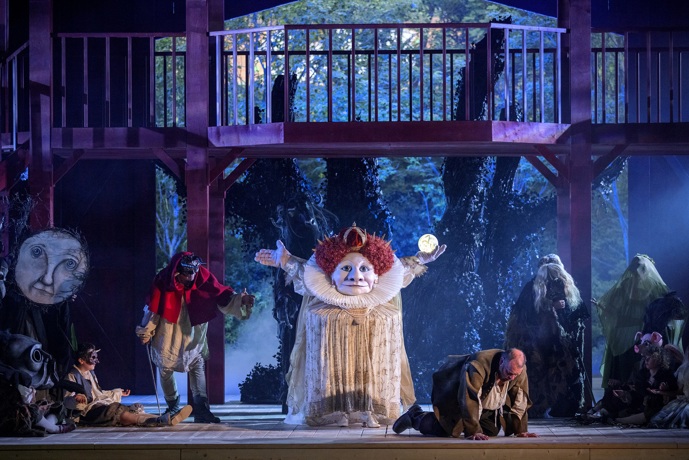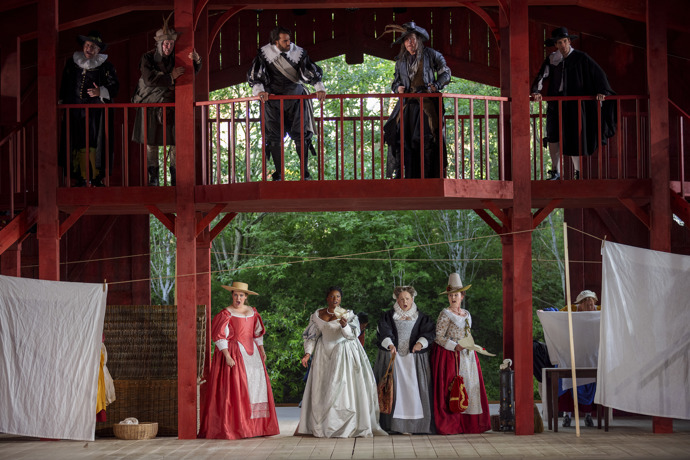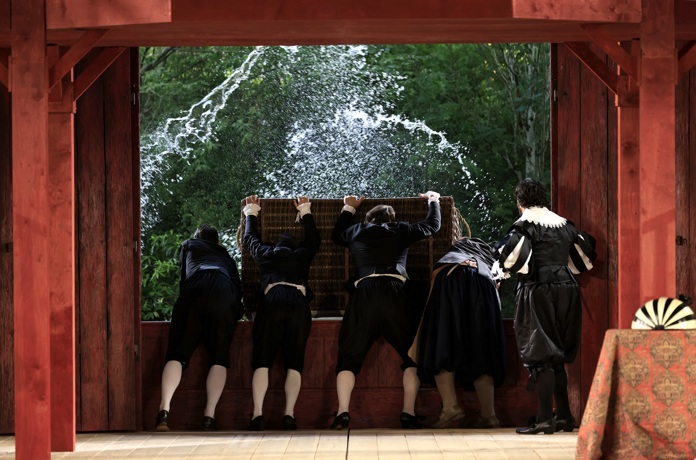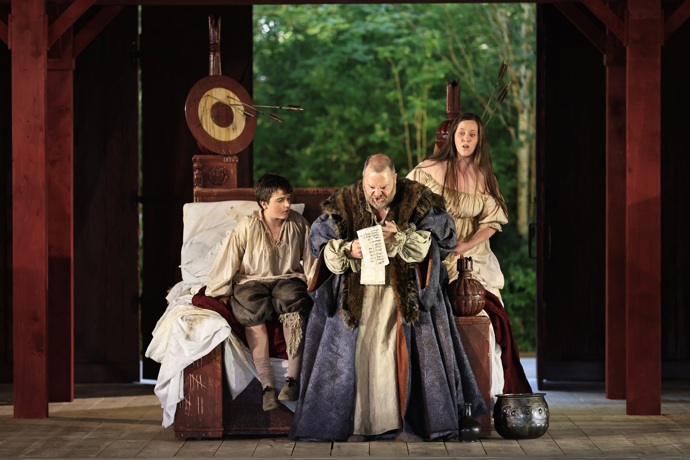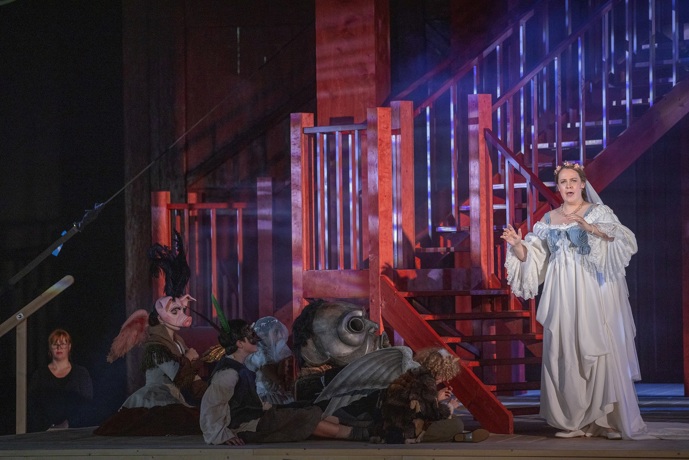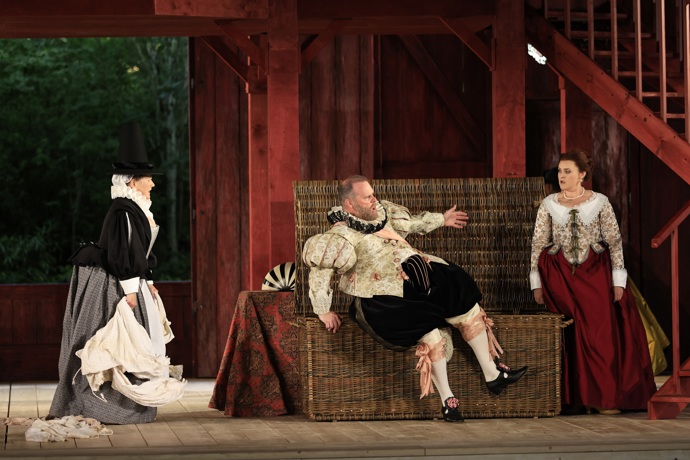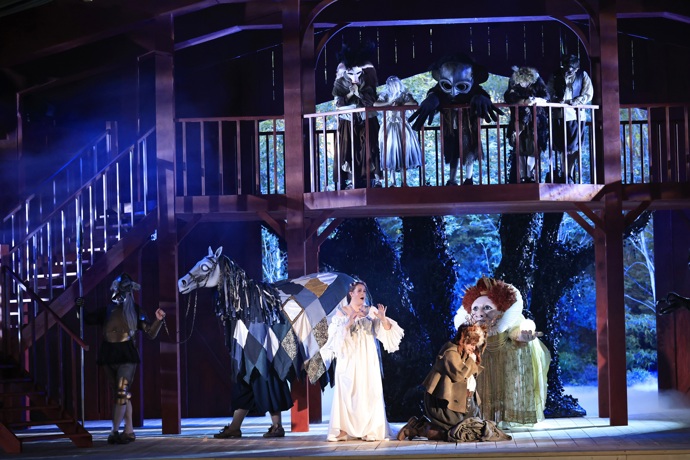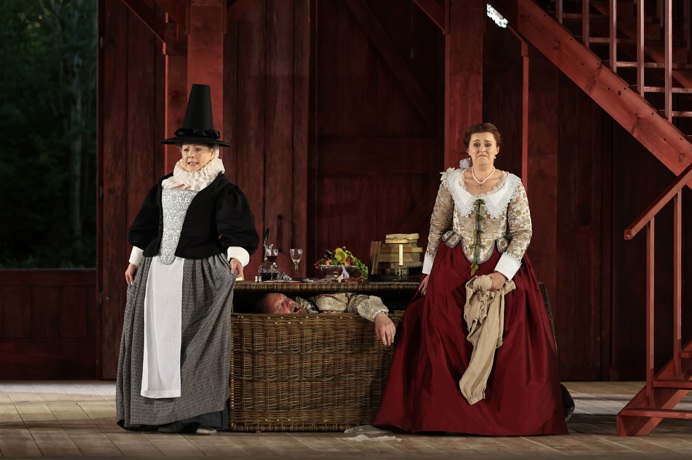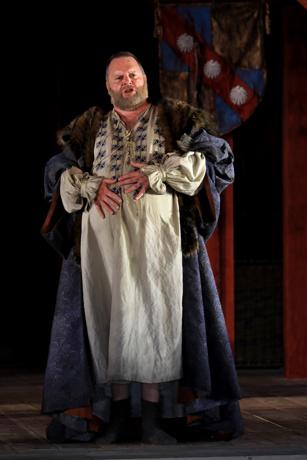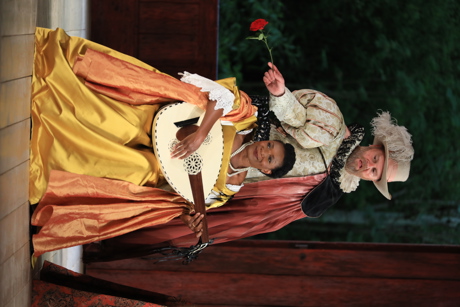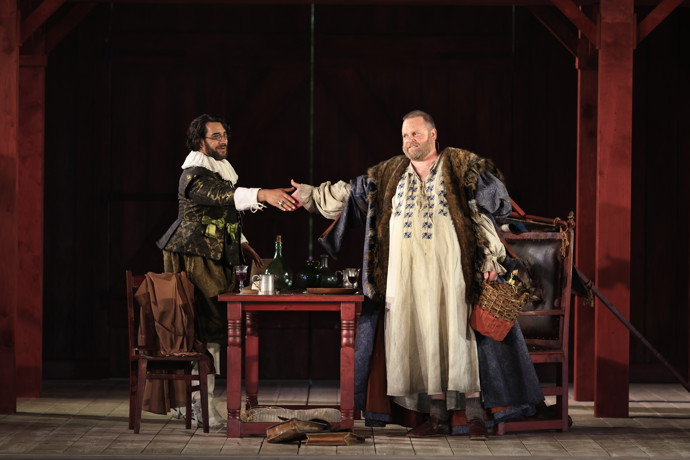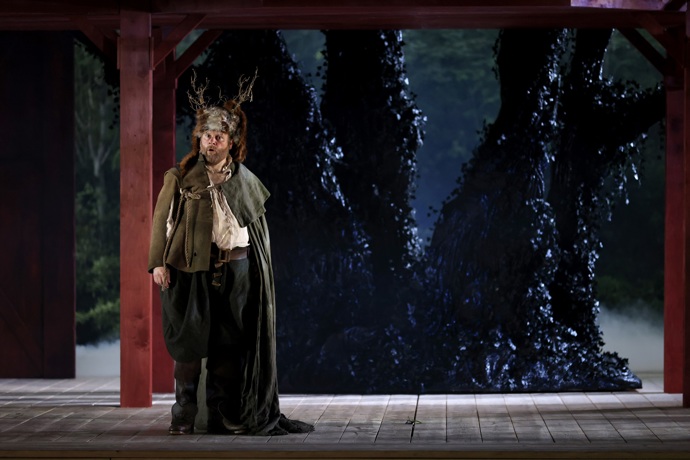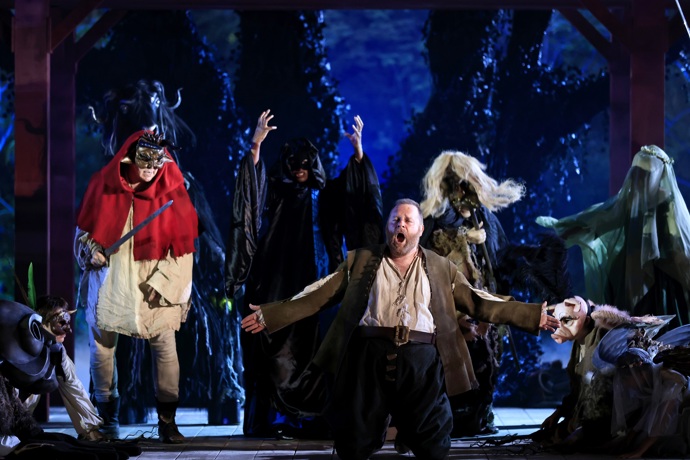 What the press said
'It may be in a car park but Scottish Opera's Falstaff is a five-star triumph.' ★★★★★ The Herald
'Jacobean 'update' of Verdi is is as luxurious as it is joyous.' ★★★★★ The Telegraph
'Pranks and pathos as Scottish Opera's Verdi shines.' ★★★★ The Guardian
'Celebratory production hits the big notes and gets its storytelling just right.'  ★★★★  The Stage
'The superb cast, led, in the title role, by the fabulous baritone Roland Wood, gives us a high-octane rendering of the opera, with all the colour and rumbustious humour Verdi intended.' The National
'Slow-spreading operatic sunshine that seeps into your bones.' The Spectator
'Without a single weak link…exceptional performances.' Vox Carnyx
Audio described performances
Live at No. 40, Glasgow: 10, 13, 15, 17 July
Edinburgh International Festival: 12 & 14 August
As we return to live opera, we're very happy to be able to provide audio description at a number of our performances of Falstaff  this Summer, including performances in both Glasgow and Edinburgh. 
You can book tickets for audio-described tickets via the relevant performance booking links on this page, or find out more about our Audio Described performances.